If you have no idea what like4like.org is. You are in for a treat. With over 20,000 Like 4 Like members. You can't go wrong. Once you are apart of the community. You will see your social media stats rise. I know because I have been a member for about a year and have seen results. It is a great tool to help get the word out and boost your rankings with in your preferred social network.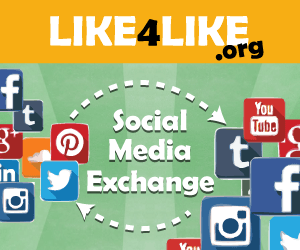 This community is full of business owners, musicians, webmasters, retailers, acts, personalities, video tutorials, bloggers, models, actors, athletes and more!
What is Like 4 Like.ORG?
Like 4 like is a well built social media exchange community that runs on the cloud. Which is awesome because you do not need to download any software. All you need to do is create a user name and password. Oh, I almost forgot the best part. You do not need any cash to get started. That's right, it's free!
The proof
Below is a snap shot of insights of one of my Facebook business profiles. These result are from just spending 1 hour liking, sharing and commenting with in the Like4Like network. As you can see the traffic flows rather quickly.
Tips for Like4Like.org
Now I have been a member for about a year and I have learned a bit of how to play on platform. If you are not careful or do not follow the rules from the developers. You may be banned from your favorite social media platform. Yes, I have been punished by Twitter and Facebook. They will typically turn off your liking and or sharing functions for a period of time. It is their way of making you aware that you are not allowed to abuse their network. If you think about it. It really does save their integrity. Below are two pieces advise that you should read so that you do not get banned or punished.
Look at what you are sharing on your profile. Like 4 Like gives you the opportunity to view what you are sharing on your profile before you share it. I highly advice you look before you leap. I lost an entire twitter profile because I was not paying attention to what I was sharing.
Do not get greedy! Space out the time spent liking and sharing. If you go to fast you will be punished. They will basically turn off the ability to like stuff if you go too fast or you do too much in a short period of time. SLOW DOWN! VERY IMPORTANT!
Have at least one profile on several different social media networks. This way you can make exchanges on different networks in one session. It will help slow you down and will decrease the chances of being banned.
How to make the most out of Like4Like.org
The developers of Like4Like have made it so that it is very difficult for robots to gain access to their system. So all of the exchanges are made by humans. Well it appears that all of them are. You can really gain a lot of traction if you start interacting with the people liking and sharing your content. It is very important to realize that you need to connect with people. The L4L community only gets your foot in the door and that is all.
Optimizing your social media profile
To really gain all the good stuff that happens when using Like4Like.org. You need to build awesome attractive social media profiles. Here are some tips you should really practice.
Upload a Profile Picture! Your face is the best.
Fill out the about or description section! Tell people about yourself , use emojis and have a good call to action with in the description.
Fill in where you are from! The developers of L4L give you the ability to target people depending on location. Just put your country in.
Make sure to fill in your interest. This will give others a brief idea about what you like. Making it easier to connect with you.
Referral program
Like 4 Like has an awesome referral program. If you are into affiliate marketing then this would be a good program for you. I have to ask if you do decide to join their community. Please use the links that I provided with in this blog post. This way my L4L profile will be awarded.
Buying social media interactions
You can log onto the site and purchase points for social media interactions. I have done this and have found that sometimes the points spent doesn't add up to how many interactions that appear on my social media profiles. Some of the likes and shares will disappear after you get them. They are most likely deleted by Facebook, Twitter and or YouTube. It started to get real bad when they started deleting accounts off their networks. Also some community members will delete their interactions afterwards as well. I think it's because they don't want the content they liked in the social media feed. If you are not adventurous with your content because you refuse to see anything different in your feed. Like4Like is not for you. The reality is that after some of the purchased points or the points that you get in exchange. Will be spent on social interactions that disappear.
So if you have a hard on for every point, then this is not for you. I have been using the system for a long time and have seen some like and shares quickly appear and shortly drop off. Maybe hours or days after they show up. However, majority of the social media interactions do stick. This is clearly Facebook, Twitter and YouTube's policing. They have to do this so that the like button does become point less.
Report violators
The developers of the L4L have put I. A system to report violators. Yes, there is rules and if you do not follow them. Points are taken away or your account get banned. I highly suggest you read the rules and expectations before paying in the community. Also always report violators it help the community.
The cons
1. Facebook, YouTube and Twitter are known to drop social interactions after they are completed by community members.
2. You can be banned from Youtube, Twitter and Facebook if you are abusing their tools.
3. Every point earned may not see a return.
4. You still have to interact with people via messaging, or comment to really make useful connections.
5. A social media profile that likes or shares your content may not be complete and look fake.
6. Some of the social media profiles that community member are using to interact with are not used or barely monitored. Kinda like shell accounts.
Tips to avoid the cons
1. Slow down! Do 5 to 10 minute sessions at least a half hour apart.
2. Populate your social media profiles with content. Images and posts. Do not just post links to crap on your wall. That looks spammy.
3. Read the rules and exceptions of community
4. Write awesome comments
5. You get better results if you have people like your posts. Then invite them to like or subscribe to your page.
6. Stick with the community over time. You are rewarded free points the more work you put into it.
The value
I think you should think of this community as a window. A window into another community or even another world. A world that you may have never seen. It is no secret that a digital bubble is created around you the more you use your social media profile. You will be around people like you and you see the same content over and over. After time you no longer see out of the bubble. Like4Like.org will bypass that bubble. I know you will see some crazy stuff on the platform. I really enjoying going through Sound Cloud. There is so much music out there in the world and it is freaking cool.
Feel free to leave any questions or comment about Like4Like.org.