The small business marketing minute show the show that gives you the busy small business owner, simple, affordable and practical tips to grow your business and, of course, teaches you. The famous duct tape marketing system have some breaking news to report this week from the very key key and technical world of search engine, optimization, which I know is a topic that you all absolutely love being sarcastic.
Of course here. I know that the typical local small business owner does not want to think at all about search engine optimization, but unfortunately this is an area where what you don't know can in fact hurt you – and this is the case with the news I have to report this Week last week, Google started rolling out a change that could potentially have some significant impact on some of you out there.
Most of you are probably familiar with the concept of when you, when you do a search for a local business. Some of the results that will come up on page one of the search results will be the map listings for the google maps, so you'll see a list of businesses and you'll have little icon next to them. That says, ABCD and E and so on and it well let some information about the business like their name and phone number, and if that business has any ratings, it will show their star rating there and the reviews and number of reviews and all that.
So in the world of SEO that we call these listings, that's the seven pack, because there's usually about five to seven businesses listed there well, starting last week that has changed. Google is now only going to list three businesses in that maps listing section. So what that means is that if your business was not in the top three of the listings that showed up in that seven pack, it won't show up anymore now.
This doesn't affect the rest of the organic listings for page one of the search results. So if the keyword that people were searching for is something that you show up for elsewhere on page one, that will still be there, but you just won't be in the maps listing section unless you're in that top three. So how do you get in the top? Three: well: it's not really public information as part of Google's super-secret algorithm, but some things that we know contribute to.
It are having lots of positive ratings and reviews on Google and having your Google+ page setup and claimed, and things like that. So definitely make sure you're on top of those things now, along with the reduction of the maps listing from seven businesses to three businesses, there were a few other changes made as well. For one thing, the exact address of the business works removed from that first screen that you can see in the actual search results.
The phone numbers remove from that area, links to your Google+ page or remove from that area, and all this information is still available. But people have to actually click the listing, so one of those three businesses that's listed in the Maps listening section actually have to click the listing in order to get all that additional information. It's not entirely clear why Google is doing this in what direction they're going here.
I've heard some people hypothesized that this might be a move towards making the maps listing a paid listing, in other words, where businesses might have to pay to show up in that maps. Listing section so maybe they'd be three businesses that are available for free and then additional businesses. If they're not in that top three, maybe they have to pay to be there. That's just a theory, I'm not sure if I agree with that theory or not, but it is a possibility.
So this is just something to keep an eye on and see how it starts affecting businesses. But the bottom line is that things change very quickly in the world of search engine optimization and, like I said at the top of the podcast, it is a situation, unfortunately we're what you don't know can hurt you and foremost local business owners there. Never even going to know that they're being hurt so last spring when google rolled out the change to the algorithm that caused web sites that aren't mobile friendly to get bumped way down in the search results.
That's another great example of something like this, where a business might all of a sudden just stop getting as many leads from their website and not really know why. This is another thing that could lead to that kind of situation. So if you don't have someone in your business, that's at least keeping their ear to the ground and paying attention to things that are developing in the world of search engine optimization.
You really should be outsourcing that to someone in some capacity just so that you at least know what's going on and can have someone taking care of that area of your business, because it's just so so important these days to especially for a local business to be Able to be found in local search results for people who are searching for your type of business. So that's all I've got for this week's episode be sure to subscribe to the podcast on iTunes.
So you get next episode as soon as it's published, and I will see you next week. Are you looking for a step-by-step manual that teaches you how to create a lead generation system for your local business? If so, my new book entitled the small business owners guide to local lead generation might be the perfect resource for you. It teaches you about everything from direct mail and referral, marketing to website design and search engine optimization and much more, and it's been endorsed by numerous top small business experts, including BNI founder dr.
Ivan meissner in freshbooks. Ceo mike mcdermott pick up your copy today at local lead gen book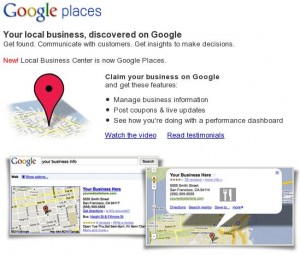 ---