This is uh. This is our website. I'm going to go to a home page okay. So there is the site, earth grid, calm and when I'm now goos I'm going to go into google and i'm going to type in Google Adwords Keyword tool or you can just Google Google Adwords Keyword tool. Okay. Now it gets you right into the Google AdWords tool. So this is some stuff that you probably most people, will basically just type a word or phrase in here.
What I'm going to do is I'm going to take this page right here now, i'm going to copy, because our homepage right, i'm just going to paste that right in this box under the website field. Now you can do this with any website any competitor, any product that you're trying to sell you just pop in the URL of the website, supposing you're selling a clickbank product just pop into you or all that what's going to do, is it's going to fetch all The keywords right from that site and populate the keyword list down below now.
The other thing you want to do is you see where it says broad. I want you to uncheck that and go to exact we're going to uncheck. You have to actually click exact before you can uncheck broad, but I want you to emphasize this thing. It says exact right over here, okay and so then I'm going to go over here and I'm the type in the key. I hate these captions there we go now you see. What's really cool is we got all these keywords? Build a website make a website domain, name, search, free web site hosting.
The next thing you want to do is go over here and search by global monthly searches, and you see web hosting. This is how many times per month, people are searching for the exact phrase. Now, if I go too broad – and I do it again – you see you have a website – 100 million websites online website, all that data is kind of useless, because it's so broad and so vast. You probably won't even do this. What are you doing, PPC or any kind of campaign? What I like to do is uncheck the broad and just go and exact, and that tells you exactly: okay, there's 135,000 people searching for web hosting every month, website, design, website, templates domain names, blah blah blah blah blah all right, that's good! Then what you can do now um, I let's see if I can do this, I'm going to go grab all this stuff cuz.
You know, google won't let you actually export this stuff, but you can copy that to your clipboard and then I'm going to tell you you know you want to fire up a very free tool called open office. You don't have already have it already installed it to go to openoffice.Org, okay, we're already five minutes through it. I'm almost done demonstrating what I was going to show you, which is really cool. This is from a 90 minute article, and this is all I learned from this 90 minute article.
So one of the things I'm working on here is delivering 10 minute. Quick BAM apply it stop this article. If you want to and go back, go to openoffice.Org and download this product, it's a free product, it you know. If you have office, you can do that too, but it may not. You know I find that open office works better for by copying and pasting stuff. In that you like lift it from somewhere else without getting all the forest, so I'm going to go here to UM to op OpenOffice calc.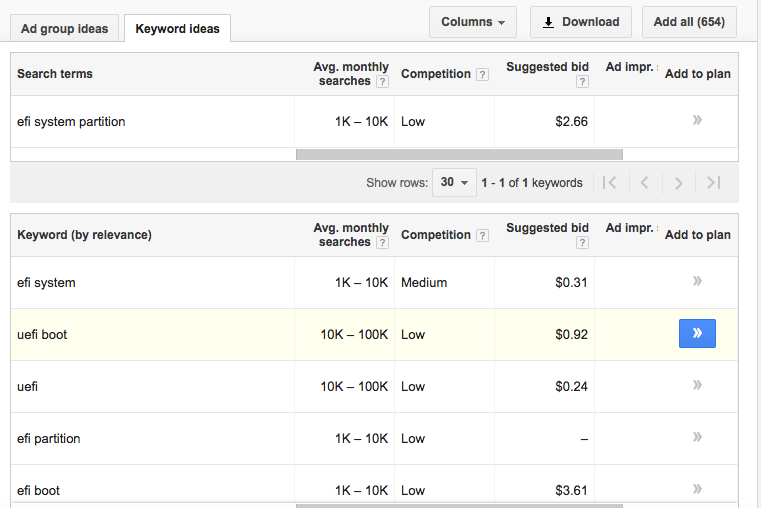 If you could also use a google docs as well fill the other key here is in there yeah yeah. You could use google docs, but I don't necessarily want to let Google know that I'm lifting all either because all the London up – and I also what I'm trying to do – is keep a local copy of it. So, okay, so now I have my spreadsheet here and the first call of a ducking, so I could just delete that and I can expand this column out right here and now here I got all my statistics right, so I've got my 16 keywords.
This is how to 35,000 local 40,000 okay and now, if I want to do a PPC campaign, I now know what keywords to go after all right. So then I could save this. I'm just going to save this to my desktop and i'm going to call this a web hosting keywords and we'll go back to that now. I've got now got all my keywords that I'm going to go after all right, so this is very, very useful because then the other thing is they: supposing, if you, if you're buying a some pay-per-click ads, all you need to do is copy this column, and then You could open up like notepad, okay, paste it in right.
What happened there copy what the heck's going on? Oh, it's at the very bottom there. It is see that now I have all these keywords now you can grab these keywords and paste them into your PPC campaign and by those keywords, and we can do another training, how not you how to do paid advertising that wasn't the purpose of this. I just want to show you how to use Adwords and what the distinction is now.
Why would you want to use AdWords? Well, generally speaking, if you don't have a keyword, that's at least like 30 or 40 thousand dollar, thirty dollar thirty or forty thousand s articles like 30 or 40 thousand searches per month. It's probably not worth your time to write a blog post to really kind of focus on that keyword, even with PPC, alright. So on any questions I'm going to this is what I want to impart to you.
It's a very, very simple thing. Just to summarize again number one pop in URL or you can put in the word or phrase here, but I like tears because if Dutchess all the key words right from the site. So if you're, if, let's say, for example, you're writing a book and – and you want to come up with some keyword, ideas for your book will find a competitor's book that the best seller pop those keywords in there and then use this to figure out what keywords You want to target for not just for getting your basic broad you're, giving your broad-based keywords down and then i'm going to pick something like something in the thirty forty thousand range.
Something like you know, create a website. Okay and then i'm going to go on to the next tool with that n equal any questions before we uh that useful. Yes, that's great, i'm sure it is alright. So, if you're reading this article I'd like you to take action – and none of this really matters, if you don't have a reason for using it, so if you're selling an affiliate product, you want to use this information to buy some ads takes, you know, take some Kind of action by those ads or contact the person that sent you to this article so that they can show you a little bit more about how to do uh how to apply this to your business.
---